I've bought clothes online along with furniture, flowers and books. But my favourite so far is groceries.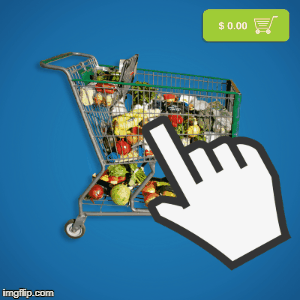 While home delivery has been an option with some grocery chains for a while now, a more recent innovation is the option to shop online. Some stores have made it possible to order from home all the groceries I'd normally buy in a store, from fresh, frozen and canned to non-food items.
No longer do my family and I have to make the weekly trip to the grocery store. Now I choose, order and pay for my groceries online with Save-On-Foods in Calgary. I request delivery for the day after I make an order and the driver brings the groceries right into my kitchen. I order everything from bread, milk and fresh fruit and vegetables to meat, body wash, refills of medicine and hair dye.
Because I have multiple sclerosis, buying groceries has become increasingly difficult for me over the years. I enlisted the help of my husband and teenaged children to do the shopping. And then I gave online grocery shopping a try.
The first few orders took me 60 to 90 minutes because I looked up each item I needed – I still write a list of things I need before I go online. But I've cut that time in half by bringing up a list of my past purchases and clicking on the items I want again. The list of past purchases uses the current price of the goods, not the price the goods were when I last bought them.
I can shop by department. I can use the search option to find specific items. I can browse through the weekly specials; check out recipes for which I can then purchase ingredients; or order a birthday cake. There are pictures of every item, which I can click on for a larger photo and further information. To choose an item, I click on a green add button below the picture, which is a counter, to pick how many of an item I want.
One great feature is the running tally of the goods I'm buying. If the tally is getting too high, I can cancel items I can do without that week. I can also remove or add items on the check-out page while reviewing the list of all of my purchases to ensure that I have the right amount of each item and that I have everything I need. The impulse buying that would drive up our grocery bill is no longer a problem. We're saving hundreds of dollars a month. An extra bonus is that with each purchase, I earn points that I can use to get some items for free.
Delivery costs $10.95 for most of the three-hour time slots, which run from 7 a.m. to 10 p.m. seven days a week. Time slots on Friday and Saturday from 8 p.m. to 10 p.m. have a $4.95 delivery cost while 7 a.m. to 9 a.m. times cost $12.95 every day. There's also the option to pick up the groceries. I've phoned for assistance twice and received answers quickly.
There are drawbacks to grocery shopping online. One is that there are always some items that aren't available. But I choose the option to allow the shopper to buy substitutions. Another drawback is that I can't order groceries for same-day delivery, but I can have next-day delivery or even delivery several days later. Not having same-day delivery isn't a big deal to me. We can always pop into a grocery store for an item or two that we can't wait for.
I give online grocery shopping a 9.5 out of 10.
Louise Gibbs,
Calgary, AB